FREE ACCESS TO TECHNICAL-TEXTILES.NET
In these difficult times, when keeping up-to-date is so difficult, we are pleased to offer free access to the full text of our information service for one month. To be added to the access list, please simply email [email protected]
Strategies of Leading International Technical Textile companies (print format)
Strategies of Leading International Technical Textile companies (print format)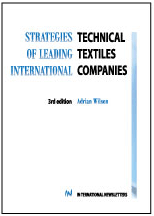 Publisher:
International Newsletters Ltd
STRATEGIES OF LEADING INTERNATIONAL TECHNICAL TEXTILES COMPANIES, 3rd edition, is a completely revised and updated edition of this major report, written by the internationally respected textiles journalist Adrian Wilson. The third edition examines, in depth, the strategies of the world's leading technical textiles companies, and analyses the major changes to the industry brought about by the previous financial crisis.
Acquisition strategy, financial performance and company missions have all changed enormously due to the prevailing economic climate and this report looks at the alterations, both voluntary and enforced, that this has brought about. The report examines the strategies, acquisitions, structures, initiatives, financial performance, new product development, capital expenditure, geographical expansion and future prospects of the major companies in all sectors of technical textiles.
The study is essential reading for anyone who wishes to understand the development and prospects for the industrial and high performance textiles industry, whether you are a supplier, a manufacturer, an end-user or an industry watcher.
To read a sample profile, please see below.
The following companies are analysed in the report:
Ahlstrom
Albany Engineered Composites
Asahi Kasei
Borgers
Culp
DSM Dyneema
DuPont
Fibertex
Fiberweb
Filtrona
Freudenberg
Gamma Holdings
Hassan Group
Hexcel
Honeywell
Hollingsworth & Vose
Japan Vilene
Johns Manville
Johnson Controls (Michel Thierry/Fezko)
Lantal
Lenzing
Low and Bonar
Lydall
Molnlycke
Owens Corning
Pegas
PGI
Porcher Industries
Prevent Group
Propex
Sandler
Schoeller Textil
Sioen Industries
SGL
Technical Fibre Products
Teijin
TenCate
Toray
Trevira
Winner Medical
Xerium
THIS REPORT:
brings together hard to obtain and previously scattered information to explain exactly who is doing what;
details where companies are targeting their investment, their new product lines and application areas, mergers and acquisitions they have undertaken, their capital expenditure plans, financial strength, and more;
covers companies from the whole of the technical textiles chain, from fibre producers right through to end product manufacturers.
EACH COMPANY PROFILE EXAMINES:
Company backgrounds
Initiatives
Strategies - current and future objectives
New product development and product extensions
Capital expenditure
Geographical expansion
Mergers and acquisitions
Cost-control measures
New application areas
Customer focus, and more ...
WHO SHOULD BUY THIS REPORT:

If you are involved with technical textiles as a manufacturer, supplier, buyer, investor, policy maker, consultant or analyst, this will be an invaluable source of information. In one publication, this report will help you with competitor analysis, investment decision-making, targeting new customers, or re-assessing your own corporate strategy.

If you wish to purchase a site licence or enterprise licence for multiple access to this item please email [email protected] for details.

For a sample profile please open the file from the link below:

XXXX